If you're having trouble viewing this email, you can see it online.
Updates | December 9, 2022
Welcome to the first publication of KAIMH Connections! Keeping early child mental health advocates informed and connected is our goal. Professional development opportunities, events, news and helpful resources will all be regular pieces of our content. We welcome your feedback!
Check out our new website!

We have a fresh new look to our website that is a breeze to navigate. If you are looking for professional development opportunities, information on Infant Mental Health Endorsement® or early childhood mental health resources, stop by for a visit!
Save the Date: KAIMH Conference 2023!
Join us April 27 & 28th 2023 for our annual conference in Wichita, Kansas. Keynotes speakers are George S. Thompson MD and Allie Ticktin MA, OTD, OTR/L, SIPT.
| | George S. Thompson MD is Executive Director of an innovative emergency psychiatric facility in Lawrence, Kansas, the Treatment and Recovery Center of Douglas County. He is a child psychiatrist and clinical associate professor of psychiatry at both the University of Kansas and University of Missouri-Kansas City Schools of Medicine. Thompson is devoted to assisting families and healthcare organizations build emotionally safe, curious, and collaborative cultures that transform trauma into wisdom. |
| --- | --- |
| Allie Ticktin MA, OTD, OTR/L, SIPT, began her work in pediatric development at the University of Michigan, where she earned her B.S. in Movement Science, and continued her studies at USC, where she received her M.A. and Clinical Doctorate in Occupational Therapy. Allie is certified in Sensory Integration and hopes that one day one day quality open ended play will be considered as important as learning the ABC's. When not at work, you can find Allie at the beach engaging her own sensory system, outside enjoying nature or at home cuddled under her weighted blanket. Allie also loves to read and color in mindfulness coloring books, which are her own regulation tools. | |
| --- | --- |
Congrats to our newest Infant Mental Health Endorsees!
Lisa Borntrager, IMH-E® Roxanne Cardonne, IMH-E®
| Lisa Sederlin-Isaacson, IMH-E® | Mary Dumler, IMH-E® |
| --- | --- |
| Starla Bieberle, IMH-E® | Eva Patterson, IMH-E® |
| --- | --- |
Announcing a NEW Endorsement® category: Infant Family Reflective Supervisor.
If you . . .
Provide or aspire to provide reflective supervision/consultation to other early intervention/prevention professionals?
Help parent/caregivers "see" the infant/young child as a person?
Share with families an understanding and appreciation of family relationship development.
Recognize risks and disorders of infancy/early childhood and make appropriate referrals?
Help parents/caregivers recognize factors that constitute effective caregiving? Assist families to anticipate, obtain, and advocate for concrete needs and other services?
This might be the category for you! For more information, contact us at info@kaimh.org.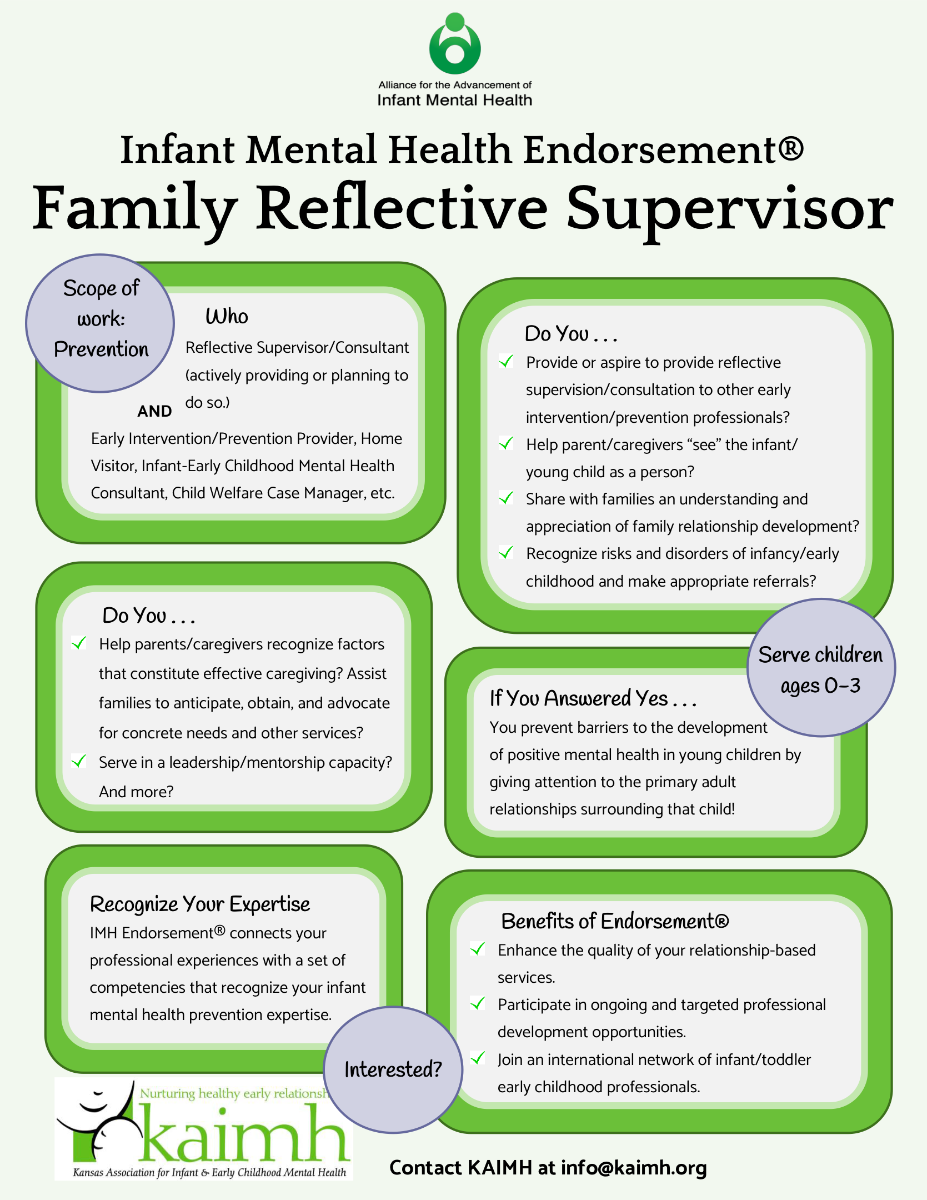 | | Kansas Parents As Teachers has free professional development opportunities that support early childhood mental health. Check out their next class Thursday, December 15th, from 1-3 pm, "Positive Behavior Supports Impact on Family Wellbeing." |
| --- | --- |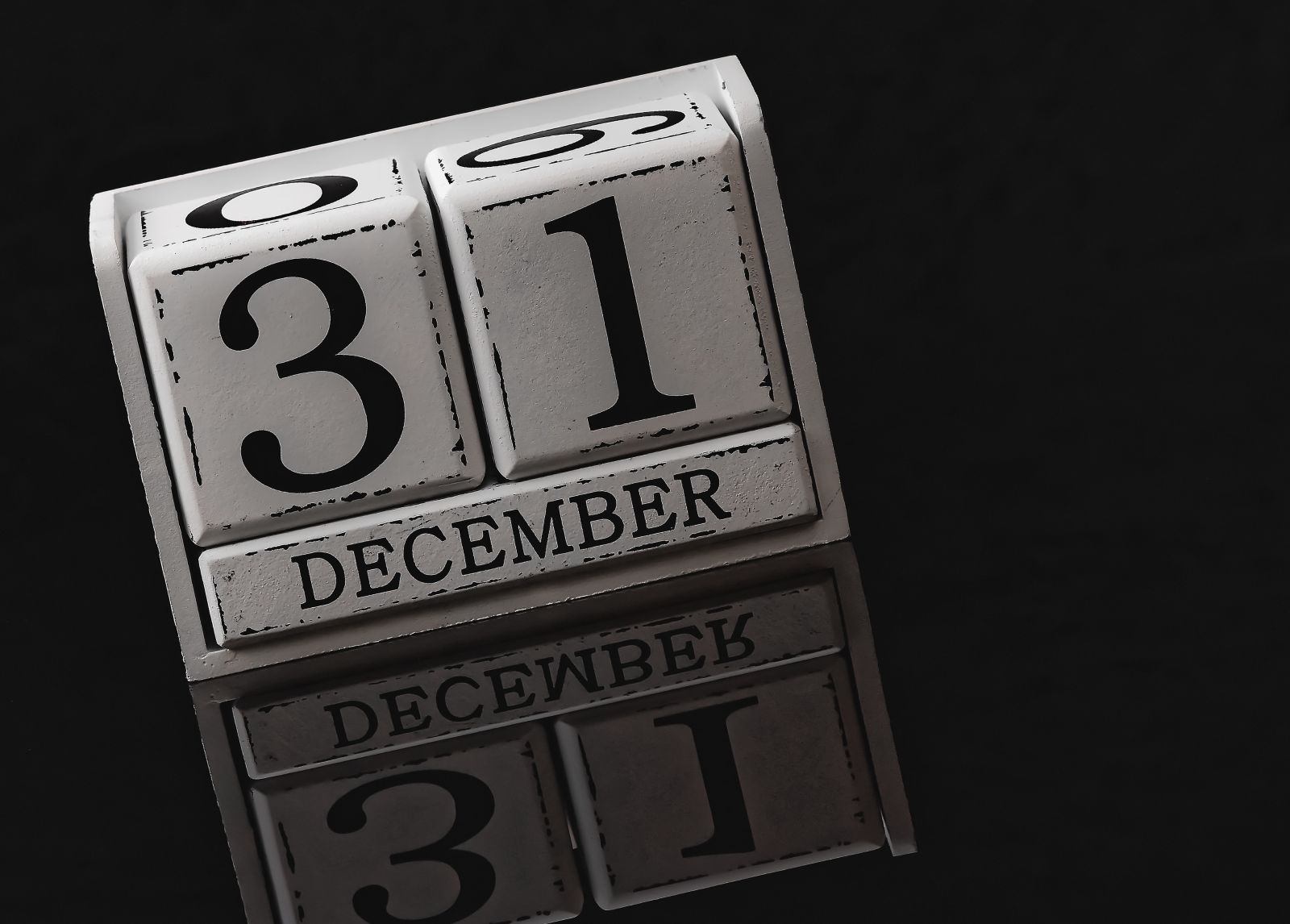 Infant Mental Health Endorsement® and KAIMH Membership renewals
are due Dec 31st, 2022.